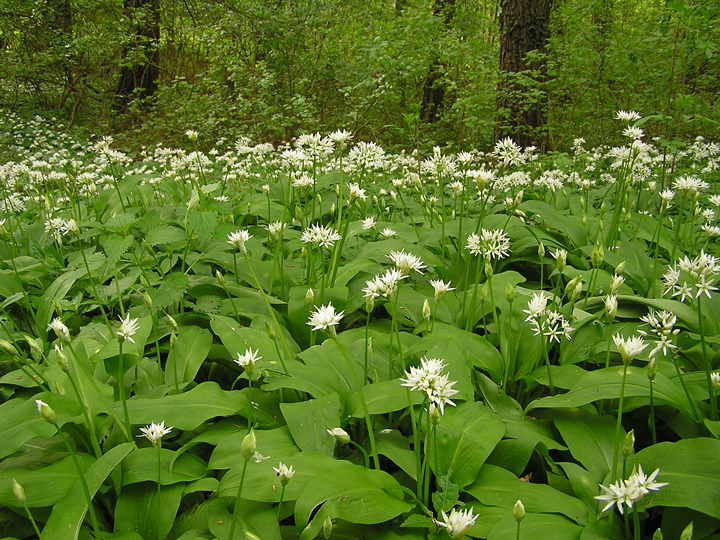 I think that all across the land, we eagerly await the coming of Wild garlic (aka Ramsons) in the spring. Here, the hills are festooned in the gorgeous glossy leaves, and later the beautiful white lily-like flowers. Wild garlic (Allium ursinum) is a forager's dream. It is super healthy and absolutely delicious, and so I seize the day and my basket to wander into the lost valleys to collect this delicious herbal treat.
Wild garlic has all the medical properties of kitchen garlic and is possibly even more anti-viral, anti-bacterial, anti-fungal and anti-parasitic. Traditionally it has been used to treat asthma, bronchitis, sinusitis and whooping cough, which makes sense, as the disinfecting and smelly sulphur compounds are absorbed into our blood stream and then breathed off through our lungs and nose, on the way killing infection. What a great example of letting food be your medicine.
An interesting though disheartening fact is that approximately 50% of the population carries an overgrowth of yeast. The mouth, vagina or intestines can act as a reservoir for Candida, so that when the person takes anti-biotics, experiences hormonal changes such as pregnancy, taking the contraceptive pill, has a depleted immune system, or raised blood sugar levels – the yeast flourishes, bringing symptoms such as brain fog, thrush, anal or scalp itchiness, fatigue, bloating and irritable bowel syndrome.
The flowers exhibit more anti-fungal actions than the leaves due to their higher allicin content, so it would be worth including them in your salads, over your chicken or even making a wild garlic soup. Of course, the underlying cause of the candida needs to be addressed. See my book How to cope successfully with Candida for further details on the many ways that Candida can severely disturb your health, and what you need to do to recover from this internal imbalance in your flora and fauna.
Wild garlic is also a superb food to support cardiac health. Many studies have shown that it significantly reduces total cholesterol, and can bring down the blood pressure, probably because its nitric oxide content which dilates the blood vessels. It is rich in flavonoids which inhibit blood clotting, thus reducing the chance of a stroke, and because the leaves are highly anti-oxidant, they are being investigated for their ability to soften the cell membranes and protect against hardening of the arteries.
Forest floor Pesto:
A handful of wild garlic – leaves and flowers. Rinse and pat dry. Then air dry so that there is no moisture clinging to the plants.
Roughly chop the leaves and then drop into a blender.
Top up with extra virgin olive oil, so that the oil covers the leaves once they are chopped.
Whizz until as smooth as you like it.
Now add a handful of walnuts and whizz again.
Then, if you wish, add a handful of parmesan cheese and briefly whizz again.
I like to roast chicken pieces with baby tomatoes and Forest Floor Pesto. Or, simply dip crusty French bread into the pesto and enjoy with a nice glass of red.