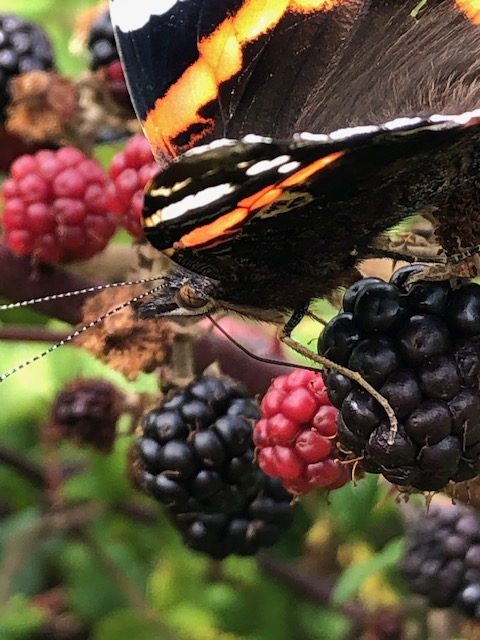 Our hedgerows are thick with blackberries now, but the berries are heavily guarded by spiders. Careful not to disturb them, I've just picked a few handfuls for my annual treat of spiced blackberry and scrumped apple crumble. Do go out and collect bags of this fabulous free food and store in your freezer for the winter because they are a super-food, and so good for you. Blackberries have anti-oxidant, anti-inflammatory, anti-viral properties, and are especially helpful for gout, Type 2 diabetes or Insulin Resistance, and for Herpes infections.
Gout
Blackberries were once a well-known folk remedy for gout, especially in ancient Greece and America where they were known as gout-berry. They are highly anti-oxidant, anti-inflammatory and help to reduce uric acid levels.
Insulin resistance
They may help with type 2 diabetes and insulin resistance. One study showed that 600g a day of Blackberries increased insulin sensitivity, and fat burning in obese men.(1)
Herpes simplex
An extract of blackberries, applied directly to the affected area inhibited the viral replication of Herpes Simplex virus by more than 99%.(2) You don't need to make an extract, you can simply squash a blackberry onto your lips if you feel a cold sore developing, and if you don't have a fresh blackberry to hand, try my rather fabulous HerpEase Cream.
(1)^ Blackberry Feeding Increases Fat Oxidation and Improves Insulin Sensitivity in Overweight and Obese Males. Solverson, P. M., Rumpler, W. V., Leger, J. L., Redan, B. W., Ferruzzi, M. G., Baer, D. J., Castonguay, T. W., & Novotny, J. A. Nutrients, 10(8), 1048. doi: 10.3390/nu10081048
(2)^ Antiviral effects of blackberry extract against herpes simplex virus type 1. Danaher, R. J., Wang, C., Dai, J., Mumper, R. J., & Miller, C. S. Oral surgery, oral medicine, oral pathology, oral radiology, and endodontics, 112(3), e31–e35. doi:10.1016/j.tripleo.2011.04.007